Mrs. Young's Class News...
for Class 1-309
.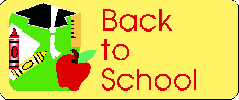 Welcome back!
The vacation is over and it is time to get back to work.  I have provided links to pages that you may want to refer to every once in a while.  To see them just click on the 

.

   The Basic Supply List.
 

    Class Rules.
 

    Homework Routines.
 

     Spelling Homework Format
 

    Class Collections:  Scholastic News, trips, pictures, candy sale...
If there is any area you feel should be added to this page, let me know.  I'll look into it!


Sign My Guestbook
View My Guestbook

I hope you've had fun and learned something new.
Check back often for more educational sites!!!

---
Communicate with Me Now!
"Janet R. Young, JRY Development"

---
Click on the graphic to vote for this
page as a Starting Point Hot Site!



This site designed by Janet R. Young
 JRY Development

Please send your questions or comments to:jy@jrydevelopment.com


This site was rated "Safe for all ages."